Nourish to Flourish Initiative
Operators have struggled for years building and then trying to maintain integrated supply chain technology. On paper, integrated systems make sense, reaching from the point of sale to procurement, menu planning and recipes, production and inventory, to financials and state agency reporting.  The needs of this ecosystem extend to include many supply chain stakeholders like distributors and manufacturers and even local small businesses such as dairies, bakeries, and produce suppliers.
The Nourish to Flourish Industry Summit in 2017 identified the problem and the urgent need for Open Data Standards and GDSN® was suggested as a solution at that time.
Five years of multi-stakeholder collaboration has resulted in an industry wide consensus for those standards. They were then applied to build a single Nourish to Flourish Database with over 190,000 unique products from hundreds of K-12 food and non-food brands.
Using GDSN standardized data resource as a core, stakeholders can build, share, and analyze quality data within school districts and across peer defined districts statewide and nationally. The unified database design combines sources from "silo" databases, by sharing common links to a full set of attributes for hundreds of K-12 Brands. However, data from other sources including FoodData Central, USDA Food Buying Guide, even USDA Brown Box and Processed USDA Foods are also included, most of these sources having already adopted most or all the same data standards.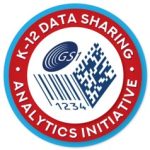 The Nourish to Flourish Journey
A mission to innovate and "scale up excellence in school meals" through industry wide collaboration.
March 2017: Nourish to Flourish Summit
The Nourish to Flourish Summit was convened in 2017 with the purpose of bringing together representatives of the entire K-12 school ecosystem. The 240 people representing 170 organizations at the inaugural summit ranged from school nutrition professionals to food companies, from technology providers to farmers.  The summit identified 16 different areas of opportunity to scale up excellence in the school meal experience.  Nourish to Flourish work is active today. The original technology workgroup included representation across stakeholders:
Ag Group:  Scott Dissinger
Ag Group:  David Duguid
Distributor:  Angela Manosky
Food Service Management Company: Stewart McKinney
Operator:  Peter Fleischer
Software Vendor: Roy Santa Croce
Software Vendor:  Chip Goodman
State Agency:  Christine Meresse
Supplier:  Savannah Pargas
July 2019: Nourish to Flourish Workgroups Continue
Two years later, several work groups completed their efforts and published final reports.  Seven groups remained active, and their work was recapped in the Nourish to Flourish Progress Report.
Data Sharing & Analytics
Streamlining Procurement
Improving the Dining Experience
Providing the Best Food for School Meals
Elevating the Milk Experience
Leveraging Partnerships to Achieve Success
November 2019: The Technology Stakeholder Advisory Group
Coordinated by an independent consultant, The Technology Stakeholder Advisory Group gathers input on draft open data standards from stakeholder groups including K-12 operators, manufacturers, distributors, state agencies, SNA and USDA; while also facilitating input from other K-12 software companies.  The Open Data Standards were developed and published to form the core data set for the Nourish to Flourish Database.
TSAG also addressed sharing the Nourish to Flourish database as a unified resource for all K-12 software vendors to maximize stakeholder benefits and widest possible use. inTEAM agreed to do so and now provides technical specifications and support for open connections to GDSN Connect as further described here:  GDSN Connect Data Export Page.
The original technology work group included:
Elizabeth Vegas, Commonality (TSAG Chair)
Dean Alessandrini, Hubert Company
Carol Chong, Alliance for a Healthier Generation
Daniel Ellnor, Jefferson County Public Schools
Carol Erb, JTM Food Group
Laura Hatch, FoodCorps
Tonya Keyes-Christianson, Arizona Department of Education
Stacy Lofton, Premier, Inc.
Laura Trujillo, Buena Vista Foods
Sal Valenza, West New York Schools, New Jersey
Andrew Williams, Tyson Foods
January 2020: Pilot Schools Test Data Standards
School pilots were launched to help develop and refine new open data standards for GDSN, including the data available behind each unique bar code, known as GTIN (Global Trade Item Number) attributes.  This enabled Nourish to Flourish collaborators to test and measure the impact of using GDSN standardized data to improve operational outcomes.
"School menu planners are able to filter items by different criteria and then quickly import the required nutritional and meal pattern credit information individually for each product directly from manufacturers into menus. With the product content being sent via GDSN, this will greatly simplify the effort to build recipes and menus as well as report and track all menu data in real-time for audit purposes."  Michael Clark, SNS | Food Service Director |Crane Elementary School District, Arizona
"In theory my software should help me shop for available products, properly forecast, generate orders, and maintain proper inventory levels for direct to warehouse and prime distributor purchases.  I found this to be more of a myth than a reality until I discovered GDSN after being asked to speak about K-12 to a meeting of Suppliers at GS-1 Connect in 2019. We have made great progress linking several technology platforms. I am confident critical data is available and will be maintained electronically and I will worry less about it" Shannon Solomon | Food Service Director | Aurora School District, Colorado
"Accurate menu planning forecasts will enable us to produce and deliver the right product to the right place and at the right time. Data collection and analytics designed for K-12 that includes trade and consumer feedback is essential for us to best serve specialized K-12 market needs." Andrew Williams | Director of Marketing, K-12 Channel | Tyson Foods
October 2020: TSAG Report Published
The Advisory Group Newsletter was published to inform stakeholders of the progress in the development of the standards from the initial draft of attributes in November 2019 through final version and publication in July 2020.  The Nourish to Flourish Open Data Standards were updated again in June 2022 based on feedback from the School Nutrition Association.
September 2021: USDA Foods & Child Nutrition Database Adopt GDSN
The United States Department of Agriculture's (USDA) Food and Nutrition Service (FNS) is collaborating with A Partnership for Public Health: The USDA Global Branded Food Products Database to collect manufacturers' food product data for the Child Nutrition Database (CNDB), a nutrient database for use in the USDA school meals programs. The CNDB is a required part of the nutrient analysis software approved by USDA for use in the school meals programs. It is a nutrient database of over 10,000 food items.
Starting with the 25th Release of the Child Nutrition Database (CN25), FNS will be transitioning to a new process for collecting nutrient data for food products marketed and sold to school food service (K-12). The new process will allow companies to submit data through the GS1's Global Data Synchronisation Network (GS1 GDSN).   In lieu of providing product information for the CNDB via the FNS-710 form, companies may submit data to GS1 GDSN using the 1WorldSync data pool (or other certified GDSN data pool of their choice) and then publish to the USDA Global Branded Food Products database.
By September 30, FNS is requesting food companies to notify FNS of their intention to submit data for the CN25 and the method they plan to use (either via GS1 GDSN or the FNS-710). 
October 2021: SNA Patron Meeting – Supply Chain Focus
The 2021 SNA Patron Meeting focused on supply chain challenges and included a presentation on inTEAM's GDSN solution.  The SNA Patron Meeting Report contains highlights and key takeaways.
December 2021: inTEAM Joins the SNA Supply Chain Cohort
The Cohort is comprised state agency, operator, and industry representatives including manufacturers, distributors and technology companies.  The goal is to brainstorm solutions to supply chain disruptions and identify tools, resources, training, and ideas for how SNA can support school nutrition professionals.  The cohort meets quarterly to collaboratively address ongoing supply chain issues to assist K-12 and its stakeholders.
January 2022: inTEAM Co-Sponsors the SNA Supply Chain Solutions Series
Launched in September 2021, the purpose of the SNA supply chain solutions series was to educate operators, industry members and key stakeholders on how to navigate and find solutions. The professional development series work team is comprised operators and industry members who are finding ways to navigate these issues. The series includes webinars hosted on SNA's Training Zone and sessions at SNA conferences.
SNA hosted the January 2022 webinar What in the World is GDSN®? Supply Chain Challenges Made Simpler with Global Data Synchronization Network (GDSN).  The webinar included a panel discussion with perspectives from operators, a manufacturer and a distributor regarding the application of GDSN in K-12.
Beth Wallace (then SNA President) and Lori Adkins (then SNA President Elect) brought their expertise to a recorded video session at the GS1 Connect  conference in June, 2022.  They traveled to the conference in San Diego to further enhance their knowledge of GDSN and engage in conversations about the K-12 market with suppliers.
July 2022: SNA & No Kid Hungry Publish Supply Chain Recommendations
The School Nutrition Association (SNA), the School Nutrition Foundation (SNF) and No Kid Hungry launched the Supply Chain Innovation project in Spring 2022 to collect information and share creative solutions to address supply chain challenges. The report,  Staying Afloat in a Perfect Storm made recommendations on immediate steps that can be taken by school nutrition directors to improve bid writing and timelines.  These included:
The timeline should begin with the day of first delivery, then work backwards.
Review current bids and update the terms and conditions language.
Review usage reports from distributor, identify novel items and forecast carefully, planning for 2-3 months.
Learn more about the GS-1 initiative to leverage the GDSN (Global Data Synchronization Network) for procurement and inventory.
August 2022: MRPC announces Nourish to Flourish Database access for 250 Member Districts
"inTEAM is committed to supporting the common language of GDSN to help operators (and software companies) access a single large, unified database.  Because transparency with all stakeholders is important, the open standards approach is designed to prevent K-12 data from slipping back into multiple silos. We found our members ready to begin using GDSN Connect for our over 4,500 contracted items year for use with their existing software. " Keri Warnick | Program Coordinator | Texas Region 10 Multi-Region Purchasing Cooperative.  See R10MRPC Press Release
September 2022: Software Provider Collaboration
inTEAM and MRPC have collaborated with the eight major "back of the house" software brands on a consensus specification and protocol to import, merge, and update the GDSN data sets into the existing database for each K-12 Operator.