GDSN Connect
Operators have struggled for years building and then trying to maintain integrated supply chain technology. On paper, integrated systems make sense, reaching from the point of sale to procurement, production and inventory to financials and state agency reporting.  The needs of this ecosystem extend to include many supply chain stakeholders like distributors and manufacturers and even local small businesses such as dairies, bakeries, and produce suppliers. 
‌To help meet these needs and simplify school nutrition management, inTEAM has developed an integrated suite of software applications to address these challenges, that were first identified at ​the Nourish To Flourish Industry Summit in 2017, launching an industry wide collaboration of K-12 stakeholders.  The result has been the building of a single Nourish to Flourish Database and a toolkit known as GDSN Connect with critical data and functionality supporting over 185,000 unique products from hundreds of K-12 food and non-food brands.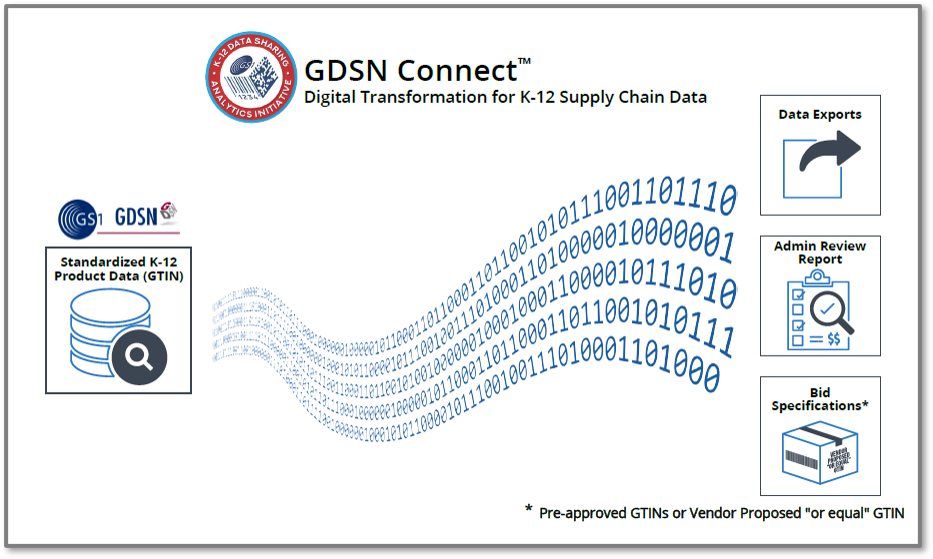 Using standardized data resource as a core, stakeholders can build, share, and analyze quality data within school districts and across peer defined districts statewide and nationally. The unified database design combines sources from "silo" databases, by sharing common links.  At the core is a full set of attributes for hundreds of K-12 Brands. However, data from other sources including FoodDataCentral, USDA Food Buying Guide, even USDA Brown Box and Processed USDA Foods are also included, most of these sources having already adopted most or all the same data standards.
The Language of GDSN
The challenge of systems integration is in plain sight.  The Achilles Heel is a supply chain bottleneck created when stakeholders do not speak a common language across systems when referring to the products they use. This solution is readily at hand and achievable when operators can access a database of unique Global Trade Item Number (GTIN®) codes issued by GS1, the global keeper of the Global Data Standardization Network (GDSN) standards and protocols.  Hundreds of accurate, and timely standardized electronic data points known as attributes are a click away behind each unique GTIN code.
The Digital Magic of GDSN Connect 
Standardized data flows easily to accomplish routine tasks with improved accuracy
Ensure real time access to updated product specifications, new or discontinued items
Encourage more competitive procurement with ability for deep comparisons and identifying "or equal" products
Improve Administrative Review results with Week of Review item and recipe specifications reports
Improve logistics and communications using the common language of GDSN means less waste and lower food costs