Nourish to Flourish Open Data Standards
Nourish to Flourish Initiative
The Nourish to Flourish (N2F) Summit in 2017 launched efforts to standardize how product information is communicated to streamline the K-12 supply chain.  In 2019, the Technology Stakeholder Advisory Group (TSAG) released the N2F Open Data Standards that defined the product attributes needed for use throughout K-12. These open data standards have guided the on-going standardization activities, including the implementation of GDSN and the Nourish to Flourish Database into the K-12 community.
Global Data Synchronization Network
The Technology Stakeholder Advisory Group also identified the Global Data Synchronization Network (GDSN®) as the core infrastructure upon which the K-12 community should use to communicate product information.  GDSN, managed by GS1®, is the electronic infrastructure that manufacturers around the world have been using for more than 40 years to communicate product information to their customers.  Through the efforts of Nourish to Flourish, USDA, and others, GDSN has finally been brought into the K-12 segment adhering to the N2F Open Data Standards to standardized how product information is communicated throughout the supply chain.

Every item within GDSN is assigned a unique Global Trade Item Number (GTIN) which is a consistent and uniform way to identify a specific product. By using the GTIN, operators and distributors and manufacturers all "speak the same language" and improve communication throughout the supply chain. Additionally, GDSN can be used to communicate production information from the manufacturer to K-12 stakeholders including nutrients, allergens, meal pattern credits, ingredients, product images, etc. Because this information is communicated electronically, it also saves time and reduces errors from  having to manually enter this data into an operators' software systems.
Nourish to Flourish Database
Through the early pilots of the platform, the N2F workgroup learned that K-12 operators needs more items than those available in GDSN. Many products such as bakery, dairy, fresh produce, and locally procured items are not in GDSN, but these comprise a large portion of an operator's procurement and menus. For this reason, the Nourish to Flourish database was expanded to include information from additional sources including USDA, distributors, and others so that K-12 operators have everything they need for their operations.

GDSN Connect
Accessing the Nourish to Flourish Database and GDSN is entirely electronic, which means that K-12 operators need an interface to be able to search for products. inTEAM created GDSN Connect to give operators direct access to items in the N2F Database, maintain a master catalog of items they use, and export that product information for use in the other software applications the use.

The Power of Three
The adoption of GDSN in K-12 is accelerating with the introduction of GDSN Connect by inTEAM, USDA requiring certain brown box manufacturers to publish product data using GDSN, and USDA allowing manufacturers to publish information into the Child Nutrition Database through GDSN.  With these three complementary solutions, stakeholders have full access to all products required for use in K-12.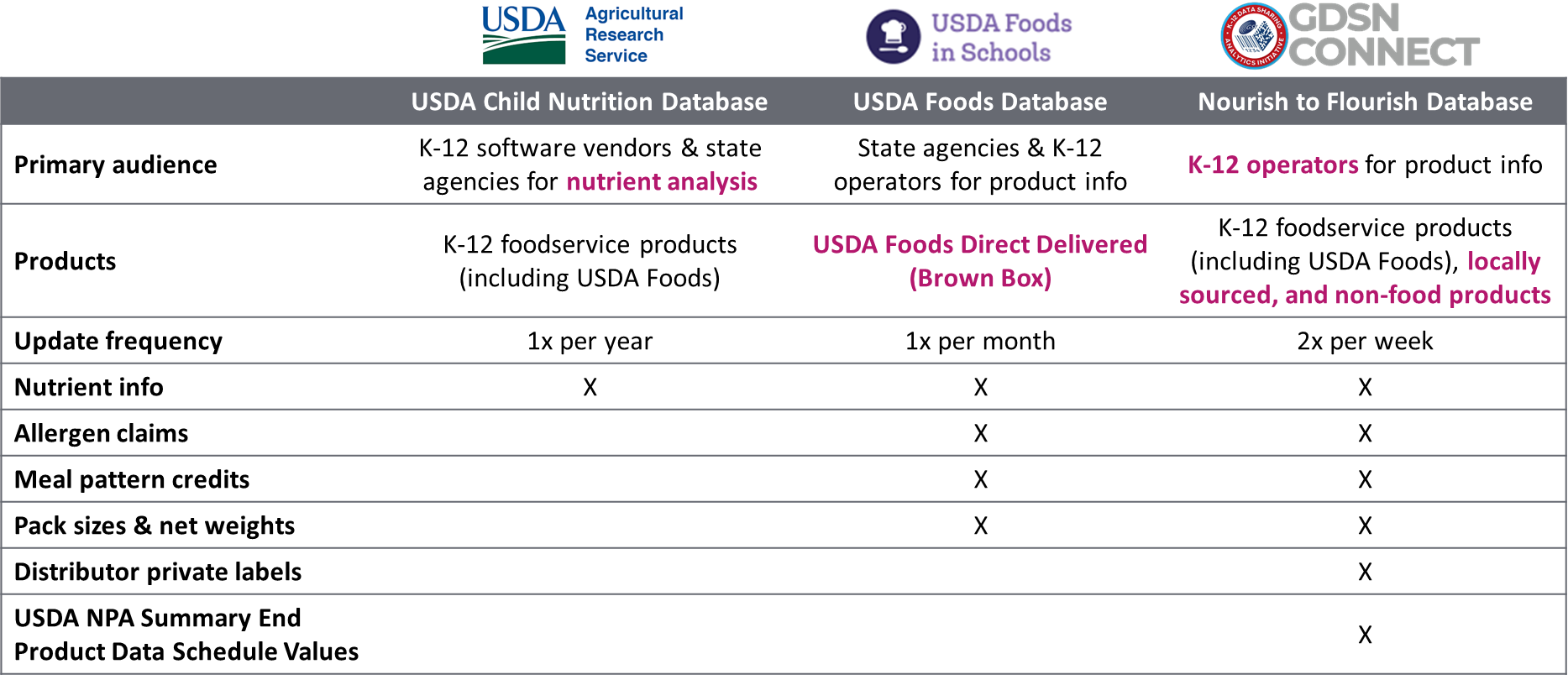 Frequently Asked Questions
Does the Nourish to Flourish database also include supplemental products?
Yes. The database includes standard generic and Food Buying Guide specifications for items like fresh produce, local dairy and bakeries with local sources added through outreach efforts.  The database also includes non-food items (like packaging and supplies) that are published to GDSN and needed for procurement and inventory purposes.
Is USDA aware of inTEAM's efforts with the Nourish To Flourish Database and GDSN Connect?
Yes, we have collaborated with USDA to highlight the ​similarities and differences between the various applications to assure our representations to the marketplace are accurate.
How does the School Nutrition Association (SNA) participate?
SNA formed the K-12 Supply Chain Cohort, co-sponsored by inTEAM, to address critical issues. SNA is also educating its membership on the benefits of using GDSN as a strategy to mitigate supply chain disruptions.  Watch the January SNA Supply Chain Series GDSN Webinar including an engaging panel of stakeholders.
What role does 1WorldSync play?
1WorldSync is a GS1 Certified data pool currently hosting the USDA and Nourish to Flourish GDSN databases. Manufacturers register with GS1 and select a data pool infrastructure provider to which they upload their product information. Manufacturers then explicitly specify which recipients can receive their product data across multiple connected data pools.
Must I change my current software to take advantage of GDSN Connect?
No. GDSN Connect is designed to work alongside your existing software without replacing it. Items can be exported from GDSN Connect and imported directly into your current software. Detailed documentation is available on the GDSN Connect Data Export page, and our technical support team can assist if needed.
Is there a cost for suppliers to publish product data to GDSN?
Generally, No.​ Most suppliers (also known as Trading Partners) are already registered with GDSN since it is a common requirement to do business in many channels like Amazon, Walmart, and major foodservice distributors. If not, there is typically a modest initial fee and annual fees based on the size of the business.  ​Most often, Suppliers can publish their data to anyone they choose without additional cost.  Some data pool providers do charge additional fees for publishing to each Trading Partner.
Is there a cost for districts to use the Nourish to Flourish Database?
The value added features of GDSN Connect can be licensed (including maintenance and support) to school districts or state agencies on an annual subscription basis.