eLearning is Transitioning to Moodle
The Indiana DOE is moving all its training to the Moodle platform. The current courses on the inTEAM Litmos platform will remain available until _________. If you have started a training course, please make sure to complete the training before this date. We also recommend that you download all your certificates or transcripts and save them to your own records should you need them in the future. If you have any questions about this change, please reach out to ________ at _______.
Tell us About Your Experience
Tell us about your experience using inTEAM's eLearning system.  Please complete this brief survey based on your User Role to help inform us of how we can improve our ease of use, course offerings and support for your learners.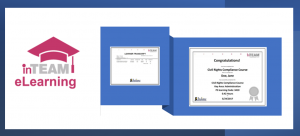 Download Course Certificates
Login to your inTEAM account.
Click on "Achievements."
Click on the "Download certificate" link for the individual certificate you want to download.
Find the certificate(s) downloaded in your "Download" folder.
Download Learner Transcripts
Login to your inTEAM account.
Click on "Achievements."
Click on the "Create Report" button.
Name your report or leave the default title, "Export Report."
The "Report Type" is defaulted to the "Achievement Report."
Click on "Date range" and add the appropriate dates for your report.
Click on the "Format" dropdown menu.

"CSV" will download a report that can be opened in Excel.
"PDF" will download a list of all courses completed.

Find your downloads in your "Download" folder.