Choosi Mobile App
Choosi is inTEAM's consumer facing mobile app and website that provides an avenue for districts to communicate with students and parents.  Choosi fully integrates with CNCentral, eliminating the need for any redundant data entry by school nutrition staff.  The Choosi mobile app is available for iOS and Android as well as popular browsers.‌
In these uncertain times, operators are challenged to quickly adapt to different models for serving.  Fortunately, the same core system can be used to plan and track meal service to accommodate any combination of the following scenarios:
Meal kits for distance learning
Grab & go with side order choices at point of service
Bulk ordering by delivery location (i.e., classroom, curbside, or small venues)
Individual offer v. serve orders
Two examples of school districts utilizing Grab & Go for online menus and pick-up choices and for Grab & Go Custom Pre-Ordering can be found in these two brief case studies:  Grab & Go Case Study and Mobile Pre-Order Case Study.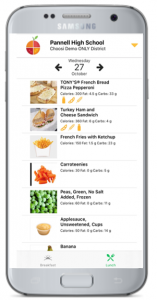 On Line Menus & Ratings
As an add-on to CNCentral Menu Planning, Online Menus displayed within the Choosi mobile app and website can easily display a school's daily menu items along with all the available nutrient and allergen information associated with those items.  Once a district's menu information is entered in CNCentral, menu planners simply need to click "Publish" and the menus will automatically appear in Choosi.  Any updates to the menu will automatically be updated in Choosi, as well.  Students can assign a rating from 1 to 5 stars to each menu item, providing valuable feedback to menu planners on student meal preferences.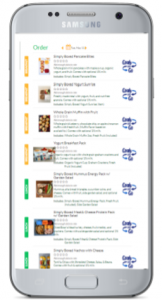 Mobile Ordering
Mobile Ordering in the Choosi app and website allows students to customize and pre-order grab & go meals from their school cafeteria.  Menu planners can use Mobile Ordering to streamline a made-to-order sandwich or salad bar within their cafeteria and shorten wait times or deliver fully reimbursable grab & go meals for pickup anywhere on campus to increase participation.  Students have a school-defined window during which they can place their order, and the order cut-off time can be configured independently for each building to optimize meal preparation operations.  Grab & go meal options are configured in CNCentral Menu Planning, making it easy to ensure that each meal meets the meal pattern requirements as a standalone weekly men u or integrated with a school's full lunch menu.  Choosi orders are automatically recorded in CNCentral and after the order cut-off time, CNCentral provides all the necessary reports for cafeteria staff to prepare the grab & go meals, pre-printed labels to speed up meal identification by students during pickup, and automated production records to simplify record keeping.