Manage Meal Kit Operations with FREE Software and Expertise
As schools shift from traditional service to providing meal kits for children and their families, inTEAM is providing operators free software and expertise to plan, pre-cost, procure, produce, distribute and support reimbursement claims for healthy school breakfasts, lunches, and suppers.
GDSN integrated Data Exchange platform  with access to a product database of over 60,000 K-12 products
Standardized Menu Planning tools with pre-populated meal pattern credit and nutrient information for each item makes building meal kit recipes and menus a breeze
Product data embedded with USDA Food Buying Guide "as served" vs. "as purchased" portions makes it easy to forecast orders from menu plans
Full accountability and state agency tools to support meal kits production, pickup/delivery sites and reimbursement claims
Click Chat to Start a Conversation
Contactless Meal Service for the 2020-21 School Year
Schools are preparing plans to implement social distancing protocols for the 2020-21 school year.  inTEAM and its partners are fast tracking "Contactless Meal Service" hardware and software solutions enabling students to customize and pre-order meals for pick-up anywhere on campus.
How can students order weekly for an accurate advanced count? How can mobile ordering be integrated with production plans for "Just in Time" prep and delivery?
Mobile apps like Choosi can be used in a variety of ways to place advance orders for up to one week. For example, students can decide which of three entrees they want, already meeting meal pattern requirements for offer v serve while reducing cost and waste. On the other end of the spectrum, sandwiches, salads and specialty foods like burritos can be highly customized, efficiently produced and packaged.  Fully integrated production plans organize production and just in time delivery based on serving time and campus location.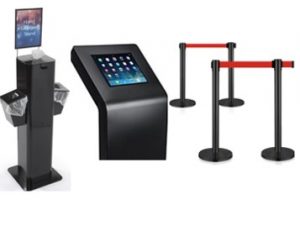 How will social distancing be enforced? Can kiosks control the flow while "runners" present complete meals for pickup?
The need to continue six feet of separation will likely continue for some time. One approach is to queue and pace lines using a kiosk that provides a constant stream of orders to staff "runners" who assemble and serve, not unlike many quick service restaurants. A hand sanitizing station is a nice accessory here.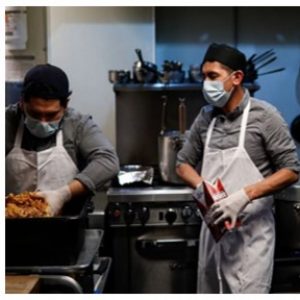 What food safety protocols will change in the kitchen?
Customers are looking for transparency to understand how staff is following proper protocols from hand washing to protective gear like face masks and gloves.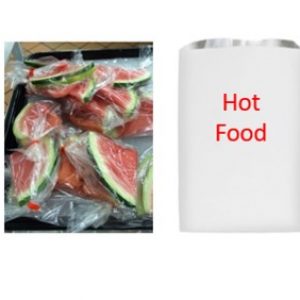 How will packaging be used to keep cold foods cold and hot foods hot?
Customers expect packaging that will protect food safety and ensure quality. Plastic bags are inexpensive and easy to use. Brown bags for cold foods and foil lined bags for hot foods are great for delivering complete meals or meal components.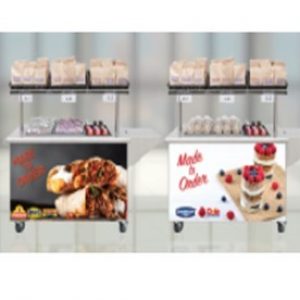 Can food courts be positioned to help create social distancing?
Creating a food court on wheels with different themes and choices can help disperse customers away from a crowded steam table.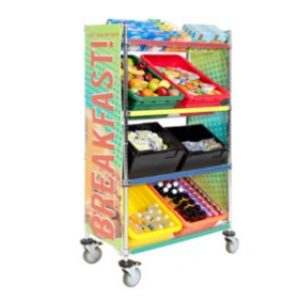 How can meals be distributed across campus? Self service or assisted service with PPE?
The Hubert cart or rack are ideally sized to manage campus deliveries at various locations on a fixed schedule. Meals may be self-service of individually wrapped items or assisted quick service by staff following food safety protocols. Synchronizing production plans and delivery times assures safe temperatures and preserves food quality.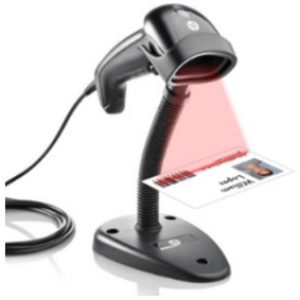 How will "contactless" check out work while still maintaining accountability?
Contactless self-checkout can be achieved using scanners to read bar codes on student IDs or a reprinted label for accountability purposes. Pin pads become a less desirable option.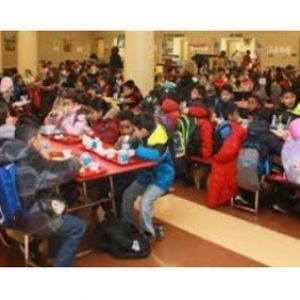 Will you be limited in cafeteria seating? Are there other areas on campus where social distancing is possible besides classrooms?
With federal guidelines likely to prohibit high density congregate feeding, smaller venues around campus become attractive with classroom meals becoming a default choice.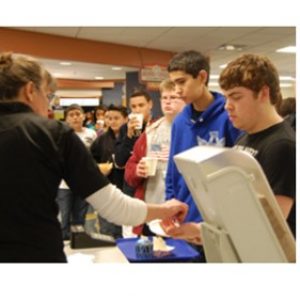 Can point of sale become "contactless?"
Traditional lunch lines with steam table service and point of sale checkout are high contact zones. Consider one or more alternative approaches as you plan for reopening of school.