GDSN Basics: What stakeholders should know about the Nourish to Flourish Database, GDSN and GDSN Connect
What is GDSN?
The Global Data Synchronization Network (GDSN®), managed by GS1® is the electronic infrastructure that manufacturers around the world use to communicate product information to their customers.
What is GDSN Connect?
GDSN Connect is inTEAM's toolkit to access and perform unique software functions made possible by the large standardized Nourish to Flourish database. It goes beyond being a one stop shop to searching, comparing, and selecting products, substitutions and equivalents. K-12 Operators can also prepare comprehensive procurement specifications, required Administrative Review documents, process USDA Foods orders for direct delivery and processed end products, and gain new insights with data analytics. Data can be electronically exported to any Back of the House software application.
At the core is a full set of GDSN attributes for hundreds of K-12 Brands. Data from other GDSN sources previously residing in silos are consolidated including CNDB, the USDA Branded Foods nutrient database, USDA Food Buying Guide, even USDA Direct Delivered and Processed USDA Foods End Products and non-food supplies like packaging.  Origins of additional supplemental data includes full line distributor catalogues, local produce and dairy, and other specialty distributors.  Most of these sources have already adopted some or all the same GDSN data standards.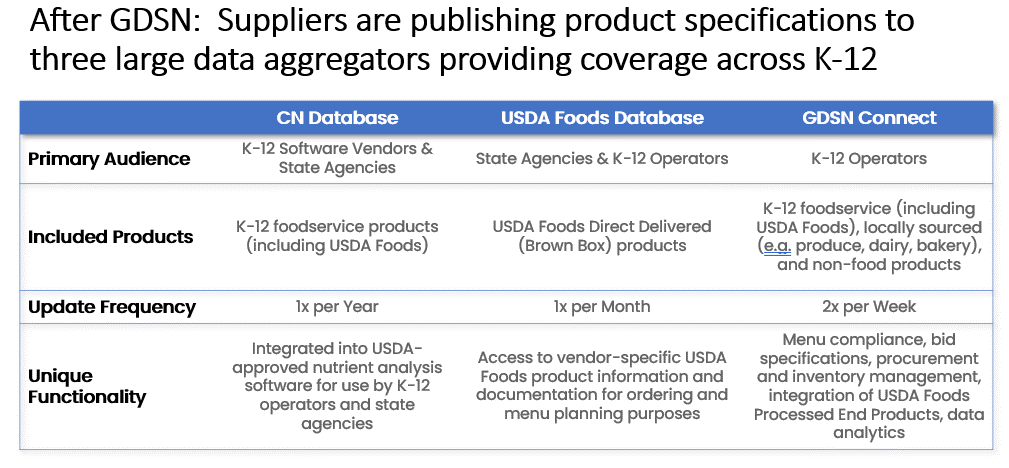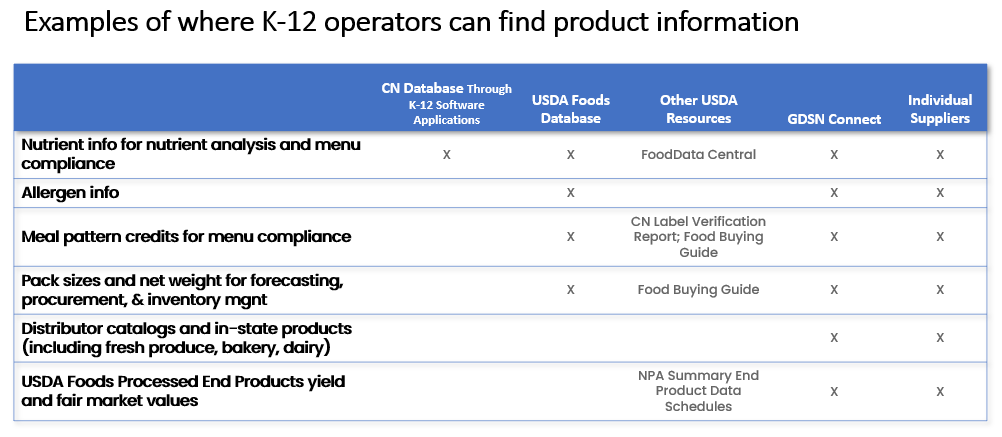 Does the Nourish to Flourish database also include supplemental products?
Yes. The database includes standard generic and Food Buying Guide specifications for items like fresh produce, local dairy and bakeries with local sources added through outreach efforts.  The database also includes non-food items (like packaging and supplies) that are published to GDSN and needed for procurement and inventory purposes.
Is USDA aware of inTEAM's efforts with the Nourish To Flourish Database and GDSN Connect?
Yes, we have collaborated with USDA to highlight the ​similarities and differences between the various applications to assure our representations to the marketplace are accurate.
How does the School Nutrition Association (SNA) participate?
SNA formed the K-12 Supply Chain Cohort, co-sponsored by inTEAM, to address critical issues. SNA is also educating its membership on the benefits of using GDSN as a strategy to mitigate supply chain disruptions.  Watch the January SNA Supply Chain Series GDSN Webinar including an engaging panel of stakeholders.
What role does 1WorldSync play?
1WorldSync is a GS1 Certified data pool currently hosting the USDA and Nourish to Flourish GDSN databases. Manufacturers register with GS1 and select a data pool infrastructure provider to which they upload their product information. Manufacturers then explicitly specify which recipients can receive their product data across multiple connected data pools.
Must I change my current Back Of The House software to take advantage of GDSN Connect?
No. GDSN can be imported directly into the items and recipe database of your current software supplier. Detailed documentation is provided, and our technical support team can assist if needed.
Is there a cost for suppliers to publish product data to GDSN?
Generally, No.​ Most suppliers (also known as Trading Partners) are already registered with GDSN since it is a common requirement to do business in many channels like Amazon, Walmart, and major foodservice distributors. If not, there is typically a modest initial fee and annual fees based on the size of the business.  ​Most often, Suppliers can publish their data to anyone they choose without additional cost.  Some data pool providers do charge additional fees for publishing to each Trading Partner.
Is there a cost for districts to use the Nourish to Flourish Database?
The value added features of GDSN Connect can be licensed (including maintenance and support) to school districts or state agencies on an annual subscription basis.