News
Join Us at ANC 2017
inTEAM is looking forward to SNA's Annual Nutrition Conference on July 9-12th in Atlanta GA. This year we will be featuring Choosi, our new Mobile App. Choosi connects students and parents with school lunch programs, promoting healthy choices, and driving increases in student participation. The Choosi mobile app gives students features including viewing and rating menus (along with nutritional and allergen information), customizing and preordering Grab & Go meals, and earning rewards for increasing their level of participation. Parents can also use Choosi to view menus, monitor their kids' activity, and manage their kids' meal account balances. Designed to seamlessly integrate with other applications, Choosi features can be selected independently or combined into a more complete solution, and be configured differently for each of your buildings. Visit us at Booth #1546 for a demo and more details. See you in Atlanta!
In Memoriam
i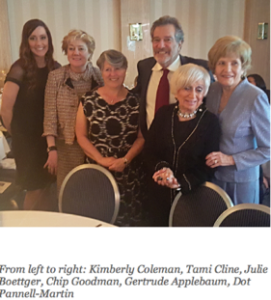 nTEAM honors our co-founder, Dorothy "Dot" Pannell-Martin upon learning of her recent passing.  Dot, along with Gertrude Applebaum, are pioneers of the school
foodservice profession whose decades of knowledge and experience helped to create standardized systems helping thousands of schools develop successful programs.  Her classic textbook School Food and Nutrition Service Management, was first published in 1975, is now in its sixth edition.  It is widely considered to be THE go-to reference book for those working in the field of school nutrition.  Just last year, three generations of inTEAM gathered to celebrate her receipt of the Gertrude Applebaum Lifetime Achievement Award at the School Nutrition Association's FAME awards which was awarded by none other than Gertrude Applebaum herself.  We were also fortunate to spend that day with Tami Cline, another pioneer and one of our colleagues, who passed away recently as well.
"I'm forever grateful for the opportunity to know these two great women and for their contributions to our mission. Our thoughts and prayers are with their families." – Chip Goodman, CEO inTEAM
Introducing Choosi
inTEAM's platform of applications is now further extended to home with Choosi, a mobile app connecting parents and kids to school lunch programs, promoting healthy choices and driving student participation.  Mobile apps have become important tools to deliver important information about school nutrition programs to parents and kids. Be among the first to try out the demo version of Choosi, a mobile app that goes far beyond menus, nutrients, and allergens to change the paradigm for school food service operations. Choosi is now available in the Apple store, and the Google Play store. Learn more about Choosi by watching this brief video.
Get it now! 

Coming Soon:  eLearning's New Registration Module
inTEAM is excited to announce that we are upgrading our Learning Management System from Blackboard Learn to Blackboard Genius. The eLearning Course Content will remain the same, but users will have more features to access through Blackboard Genius, such as learning paths to ensure that they are on track with their training requirements and automatic notifications of certification renewals or expirations. Administrative users will be able to generate transcripts and a USDA complaint report to track Professional Standards training requirements. The upgrade will be a seamless transition for all current users and will be in effect before the 2017-2018 school year begins.